Investing In the Entrepreneurial Spirit of Our Generation
A diverse group of Millennials investing in early stage ventures with a focus on supporting young entrepreneurs.
Learn More
We're training a new generation of angel investors – no bureaucracy, decisions as quickly as possible, collaborative diligence, and roll up your sleeve portfolio support but a long term view on return. We're a group built on transparency, trust and cooperation, and very selective about who joins our ranks.
We're Both a Fund and a Network
We operate funds that invest by majority vote, as well as a diverse network of young professionals who invest directly in companies they're excited about. Our investors choose the format that works best for them, allowing us to make better decisions and write larger total checks.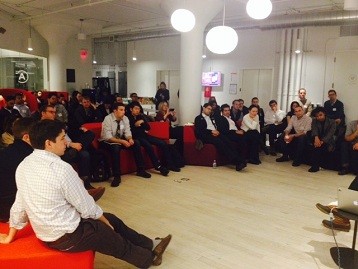 We're often the target market for the companies we invest in, and every member supports the entire portfolio, regardless of personal investment. We follow-on, support M&A, introduce to investors and customers, and are vocal, active users.
Join Us
We are headquartered in NYC but have a London Chapter. Investors have access to deal flow on both sides of the pond, and companies can tap capital from an international set of investors with a global mindset
We Are Investors That Love To Work Together
Founded by friends, we're a group built on trust and camaraderie.
Our Founders